Every business has a core operation that always remains at the center of attention for all the concerned parties. In contrast, back office support solutions remain on the backburner. But in the recent times, back office has increasingly started influencing the core business functions.

Due to an increased number of compliances and laws, the pressure on data entry and database management departments has grown. Even autonomous back-office departments such as HR and inventory management have become more and more relevant to the core functions. Therefore, companies are altering their back office strategy and investing in them heavily.
The backbone of any business is back office support. Back office support services are responsible for all critical activities such as accounting, human resource, payroll, marketing, and administrative support that are targeted at improving customer experience.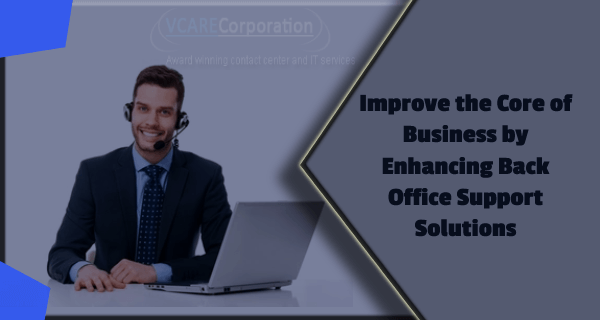 Do You Really Need to Invest Heavily in Back Office?
Although back office services have grown in importance, not much has changed in the way they are looked at. Most back office work is boring and stultifying, which makes it harder for you to recruit motivated employees. Also, most companies are fazed by the cost of high-end back-office software such as Optical Character Recognition tools, catalog and inventory management software etc. And who can blame them. Large investments on back office are not easy to justify.
On the contrary, if back office software solutions are ignored, you can never expect top quality in work. This leads to degradation of in-house back office work. Consequently, it starts eating into the quality of your core operations. For example, if a front-end marketing team is not getting access to data on time or the data supplied by the data entry team is inaccurate, it will not be able to impress the prospective clients and get them onboard. Similarly, if the HR department is not following the latest compliances, it might end up compromising the security of the whole company by recruiting unreliable employees. Therefore, quality back office outsourcing services have become a critical requirement of businesses.
Value of Work Streamlining
Tasks that bring no value to your client or the organization get lost in the shuffle of paperwork. Identify the clerical tasks that merely add to your back office staff's workload. It just takes time away from your staff that could otherwise be spent on projects that offer value to the company. Depending on the type of the waste, you can move to removing it from the process once it has been detected. You may also try out other methods and systems to see if you can eradicate the problem or come up with a new solution to enhance people's working lives.
When you outsource back office, you immediately cut down on capital and operational expense. As you do not have to procure the networking infrastructure, hardware recruitment and office space, the overall investment goes down considerably. All you have to do is pay a nominal periodical charge to the back office outsourcing company.
Share Burden to Improve Focus on Core Process
Apart from costing, the biggest advantage of back office outsourcing is that you are able to share your burden with another partner. The liability is reduced, which allows you to focus more on your core process. At Vcare Corporation, we take complete responsibility of your back office services and allow you to concentrate more on your core operations.
Read more: